Local foods that taste of home
Chef Martha Hall Foose believes community ties sweeten a meal.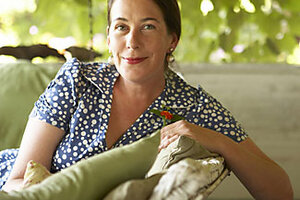 BEN FINK/COURTESY OF CLARKSON POTTER PUBLISHERS
If you have traveled the world, there is nothing quite like the aroma of a well-loved dish to bring you right back home. For Mississippi Delta chef Martha Hall Foose, a whiff of slow-simmering gumbo is akin to coming around the bend and catching sight of the bridge that straddles the Yazoo River near her house: Both promise that familiar comforts aren't far off.
Meals made with ingredients grown right out the back door may hum with flavor, but they also tell the story of recipes passed down the generations and shared among neighbors. To Ms. Foose, author of the new cookbook "Screen Doors and Sweet Tea," a good, local dish can taste even better if she knows the farmer who has grown the ingredients.
"I'm a big fan of our local farmers' market," says Foose. "The green beans you buy from someone you've known since elementary school are going to taste better than some 'unknown' green beans.... It really does make a difference to have that social and emotional connection to food."
Hard-working farmers, too, have the satisfaction of knowing on whose tables their crops of beans, berries, and squash end up.
Healthy local relationships underlie the recipe for Sunflower Squash (below), one of Foose's favorites. The deep-fried fritters sprung from a mischievous act of her friends Jamie and Kelly Kornegay, who would leave sacks of the superfluous summer squash on neighbors' doorsteps in the dark of night. Another neighbor came up with the recipe and now everyone is relieved to have an additional use for the yellow vegetable that floods gardens this time of year.
"Make friends with your [local] farmer," says Foose. "It's totally worth it in so many ways."
– Kendra Nordin
Sunflower Squash
2 cups self-rising cornmeal
1/2 cup self-rising flour
1/2 teaspoon salt
1/4 teaspoon sugar
1/2 cup grated onion
---