A preference for local meat
More chefs like Kurt Friese say grass-fed meat is a tastier choice.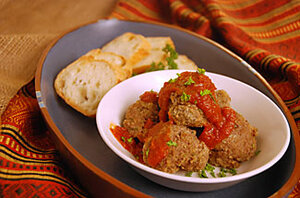 Sarah Beth Glicksteen/The Christian Science Monitor
When it comes to vegetables, even urban "locavores" can get their hands dirty in the effort to eat only local foods. All you need is a bit of sun and a patch of soil, and by summer's end you can decorate salads with your own "locally grown" produce.
Meat, on the other hand, is another challenge completely. That's best left to farmers and ranchers.
Local meat – livestock consumed within 150 miles of the place where it was humanely raised – is still a relatively small industry. However, more farmers' markets, mail-order companies, and stores that specialize in organic or local foods are featuring local meats. (To find a store near you, visit www.localharvest.org.) Proponents are quick to point to the benefits: Local meats aren't exposed to the same stresses commonly found in feedlots, and there is a noticeable difference in taste, too.
"Grass-fed meat tends to be leaner overall, but I would contend far more flavorful," says Kurt Friese, a chef from Iowa City, Iowa, whose restaurant, Devotay, serves mainly local produce, including meat from area farms. "For beef to taste like beef, cows need to eat what they are built to eat."
Cows aren't designed to digest corn, a primary sustenance used in feed lots. As a result, most beef tastes sweet, like corn, and contains more fat.
Along with grass-fed beef and chestnut-fed pork, Devotay also offers bison, or buffalo, on its menu.
---
Follow Stories Like This
Get the Monitor stories you care about delivered to your inbox.