College cooking beyond ramen
To save money and time, many college students cook creatively in their dorms.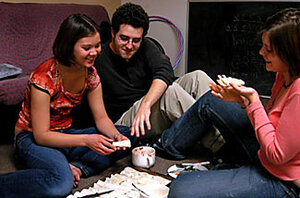 Ann Hermes/The Christian science Monitor/file
When it's dinnertime at George Washington University, most students head to the dining hall. Not Rebecca Slotkin. She and her roommate are more likely to be in their room, cooking everything from veggie burgers and pasta to fresh vegetables.
"College food is usually described as ramen noodles and Easy Mac," says Ms. Slotkin, a sophomore. "We've just taken it to a whole new level."
Call it dining à la dorm, an increasingly popular activity on campuses. Armed with simple ingredients, small appliances, and a measure of culinary creativity, some students, like Slotkin, cook because they want nutritious food and a change from institutional fare. Others use microwaves and minifridges as a convenient way to eat in a hurry or satisfy a hankering for snacks during late-night study sessions.
Whatever the motivation, their interest is spawning classes in dorm-room cooking and books such as "The Complete Idiot's Guide to the College Diet Cookbook."
"Students are pressured for time," says Michelle Stern, owner of What's Cooking, a cooking school in the San Francisco area. "They'll often choose foods that are more convenient than healthy. That, combined with the fact that they're studying hard and are sedentary, can contribute to the 'freshman 15,' " the legendary first-year weight gain.
To prevent that, Ms. Stern encourages students to consider their food choices. "If they cook and prepare some of their own foods, they're the ones in control of ingredients," she says. "When they're starving and the dining room is closed, instead of ramen noodles or middle-of-the-night pizza delivery, they can take matters into their own hands. Even though they can make things that are fast and simple, they don't have to sacrifice nutrition."
---