A favorite cookie at every altitude
Molasses can turn a regular chocolate chip cookie into something more special.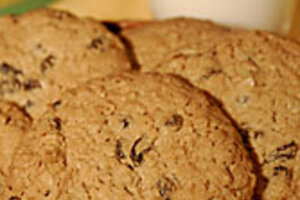 Joanne Ciccarello/Staff
Once upon a time in Denver, a young woman with shiny dark hair hanging straight to her waist came into our home. She was a high school senior who had come to work as an intern for my husband, a self-employed landscape architect. Her name was Kia. She was quiet and lovely and a careful draftsman.
One day when she came to work, she brought in a plate of cookies. Kia said they were made from her grandmother's recipe and a family favorite. They were amazing, the best. My husband and two boys and I ate them up. Would Kia's family be willing to share the recipe?
Graciously, Kia returned the next day with a neatly printed three-by-five-inch recipe card in hand. It was headed "Raisin – Choc. Chip – Oatmeal Cookies." Right. But that couldn't be the full story. What was the secret to their taste? Glancing quickly down the list of ingredients, we discovered it: molasses. Raisins, chocolate chips, oatmeal, and molasses – a winning combination. From that day forth, "Kia's cookies" became a favorite with our family, friends, and relatives.
The instructions on Kia's recipe card began, "Pre-heat oven to 375 degrees (350 in lower altitudes)." And lo and behold, the day arrived when we found ourselves living not in Denver but in the "lower altitude" region known as the Finger Lakes, in central New York. And one fine winter weekend, our beloved Denver Broncos were in the playoffs. A good-hearted, friend offered to host a playoff-viewing party at her home.
---