Thanksgiving for two
The holiday dinner can be festive even without the crowd.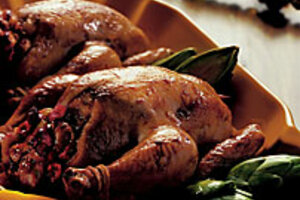 Bill Hogan/Chicago Tribune/Newscom
What are your memories of Thanksgiving as a little kid? Probably, if they're anything like mine, it was of Mother hauling a turkey the size of a Volkswagen Beetle to the dining room table, while Dad stood there wielding a threatening knife and fork that looked like some sinister relics from the Spanish Inquisition. My extended family, which was as large as any Cecil B. DeMille cast, would ooh and aah as Mother shyly blushed at the applause. "Oh, it was nothing, really."
Hidden behind a mountain of mashed potatoes, you'd raise your hand for a drumstick, more gravy, a little of Auntie's green bean casserole, and sink deep into your chair when those dreaded Brussels sprouts were passed around.
After dinner and a buffet table of endless desserts, the men, bloated as beached whales, would retire to the living room to watch football, while the women (as if they hadn't done enough), would dutifully clear the table, do the washing up, and wrap leftovers in aluminum foil for all the guests to take home.
In any case, it was always a big, chaotic event.
It's not always that way today. Families may be scattered, and kids may be off to college or living in their first apartments, and the grandparents might just be happy to stay put at Briny Breezes mobile home park in Florida.
If you're an empty nester, or just celebrating the holiday with your main squeeze at college this year, it may be time for a quiet hassle-free dinner for just the two of you.
Less may not be more, but it may make more sense.
Enter the Rock Cornish game hen.
A hybrid of the Cornish and White Rock hen, these diminutive birds are dressed out at no more than 2-1/2 pounds when brought to market at between four and six weeks old. Given the relatively small proportion of meat to bone, one bird is usually served per person.
These birds, however, are not the most flavorful chickens that ever crossed the road. The two best ways of cooking Cornish game hens are marinating if you're grilling them, or stuffing with an herb-rich dressing when roasting.
---