Cowboy comfort food
A trip down a mountain trail revealed a tasty dish.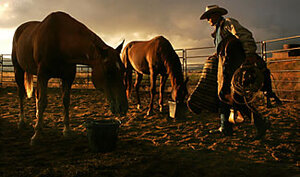 Shauna stephenson/wyoming tribune eagle/AP
Horseshoe prints dented the dusty surface of the Granite Mountain Trail near Prescott, Ariz. My husband, Ralph, and I had followed them for 30 minutes, so we weren't too surprised when a horse, on its return trip, walked slowly toward us. The man on the horse was a little surprising, however. He was dressed in a vest, chaps, cowboy boots, and a red bandanna. It looked as if he'd cantered out of an old Western movie. A rifle slung across his saddle completed the image.
We nodded and stepped aside, following Western trail etiquette, to give horses and mules the right of way. The old cowboy tipped his hat and reined his horse to a stop to chat with us.
"Beautiful horse," I said.
"Do you know what kind it is?" he asked.
The horse was dappled brown and white, so I took my best guess. "An Appaloosa?"
"That's right," he said.
We all talked about the glorious spring day, the water running in normally dry stream beds, and the beauty of the pinyon-juniper forest. While the Appaloosa waited patiently, I noticed something hanging down under its belly – an odd contraption made of wire with a horsehair tassel. I asked what it was.
"I made it myself," the cowboy said. "It bobs around and keeps flies off the horse. Do you know what it's called?"
For the second time I took a guess. "A shoo-fly?"
"Right again!" His weathered face cracked into a grin, and I felt proud. We were buddies now and our conversation turned to other subjects. He offered up a bit of personal history and told me that he used to work on the railroad.
Now it was my turn to ask him a question. "Whatever happened to cabooses? I haven't seen one in years."
I inadvertently hit on a favorite topic. "Oh, they haven't been used since the '70s," he said.
But he had fond memories of cabooses from earlier decades.
---