A pizza pie interpretation
In the South in the 1950s, we hadn't heard of pizza and decided to create our own.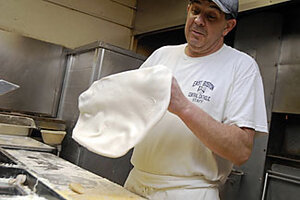 JOANNE CICCARELLO/STAFF
Today, Charlotte, N.C., is a cosmopolitan city, but it wasn't always so.
Back in the 1950s when I was in high school, my friend Jeanne, who had moved to Charlotte from New York City, often said she wished we could go out for a pizza. There was no place in Charlotte where we could get one.
I had never heard of pizza when Jeanne first mentioned it, so I asked my mom if she knew what it was. She said no, but she had read about it in a recent magazine article. She took the magazine out and we read that it was a pie with tomato sauce, some kind of meat, and cheese.
Mom said she would try to make one. She produced a pie – in the sense of an apple pie – made with a crust containing tomato sauce and a meatloaf-like filling made with ground beef, which was topped with melted American cheese.
We called it pizza, but somehow I didn't feel completely comfortable telling Jeanne about it.
Eventually, pizza made it to Charlotte. Jeanne told me a pizza place had opened up out on the road to the airport. She borrowed her family's car and we drove out there.
My eyes popped when I saw the flat piece of dough covered with pepperoni or sausage, a thin slathering of tomato sauce, and melted mozzarella cheese.
Jeanne sprinkled a slice with red pepper flakes and took a huge bite from the pointy end of the slice.
I had trouble with my slice because it wilted as I tried to bite it. I finally cut a piece with a fork, much to Jeanne's amusement. I liked it, but it sure looked and tasted different from my mom's concoction.
---