Quinoa for the single cook
A flavorful boost for one-bowl meals.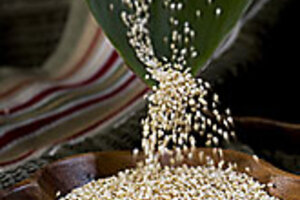 Newscom
Most people would have learned something from a bottomless pot of chickpea stew. That is to say that most people would have learned that cooking a recipe that serves 10 to 12 is best done when you have 10 or 12 to serve.
Not me.
Call it what you will: overexuberance, the naiveté of youth. I was freshly out of college and living on my own when I cooked a chickpea stew that I ate for lunch and dinner 10 days running. And even that experience wasn't enough to teach me the wisdom – or pleasures – of cooking for one.
No, it's taken years of labor-intensive recipes and stalwart leftover-eating to get me to even contemplate the one-night dish.
And even though I like to cook, until recently, I hadn't yet become friends with quinoa.
Quinoa (pronounced "keen-wah") just might be the single cook's secret weapon. It's quick. It's easy. It almost magically multiplies when simmered: One cup of dry quinoa produces four cups cooked.
Quinoa is actually a seed, not a grain, which means it's packed with protein, another point in quinoa's favor.
But what really won me over is this seed's extraordinary versatility. You can eat it unadorned, like the Incas and their descendents, who've considered quinoa a staple for more than 5,000 years. Or if you're feeling more gourmet, add quinoa to soups, use it to thicken a stew, or chill cooked quinoa and use it as the base for a salad.
Quinoa's mild, nutty flavor goes well with almost anything and offers the perfect blank canvas for any number of savory additions. You can even bake quinoa into a casserole-type dish. But be forewarned: this could lead to leftovers.
---