Chocolate with a heart
Fair Trade Certified chocolate aims to be as humane as it is delicious.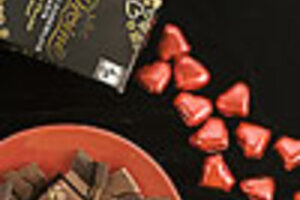 Sarah Beth Glicksteen/the Christian Science Monitor
On Valentine's Day, traditionalists typically give roses and chocolate to their sweethearts. Choosing those roses is simple: a dozen, long-stemmed, red ones say it best. But the choice of chocolate is more complicated: Will it be Swiss or Belgian, milk or dark, conventional or artisanal, a bar or in a box?
If that's not enough to make your head swirl, there's another choice that, for an increasing number of consumers, is the most important of all: the option to buy chocolate that has been Fair Trade Certified.
When a product such as coffee, tea, or chocolate bears the trademarked stamp Fair Trade Certified, it means that farmers were paid fair wages (often two to three times more than standard), working conditions were humane, sustainable agricultural practices were followed, and that all of these were closely monitored.
"The result is transformative for small-scale, family farmers, allowing them to invest in their children, their homes, and their communities, often bringing in basics like running water and electricity," says Paul Rice, president and CEO of TransFair USA, which oversees certification of fair-trade products in the United States, including acting as middleman between more than 1.4 million small family farmers in 60 countries around the world and American retailers and suppliers.
The term "fair trade" is perhaps best known in relation to coffee. The poverty and plight of coffee growers in developing countries has been well publicized and today, consumers can easily find fair-trade coffee in their local supermarket.
Chocolate is not far behind. Companies such as Equal Exchange, Divine Chocolate, and Theo Chocolate, among others, are making Fair Trade Certified chocolate available and raising awareness about the ethical difference between buying a mass-produced brand of candy bar versus a bar of chocolate that is Fair Trade Certified.
---