Food and films for thought
Berlin film festival sparks conversations about sustainability and food production over elegant cuisine.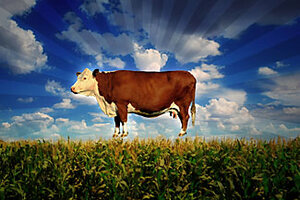 Courtesy of Berlinale
Dinner and a movie was given a glamorous and ecoconscious twist at the 59th International Berlin Film Festival, with the special program "Culinary Cinema" earlier this month.
This sidebar program to one of the world's largest and most influential film festivals connected movies on culinary topics with dinners prepared by Michelin-star winning chefs. With a price tag of about $64 for a film and a three-course meal, it was certainly one of the best deals in sight.
Now in its third year, "Culinary Cinema" focused on issues of environmental responsibility and sustainable food production. The opening gala at the 1,895-seat Friedrichstadtpalast featured the European première of the documentary "Food, Inc." an exposé of America's highly mechanized food industry. With its images of cows standing knee-high in their own manure and chickens being clubbed to death, "Food, Inc." is hardly a film to whet the appetite.
The screening was followed by a discussion with the director Robert Kenner; Eric Schlosser, author of "Fast Food Nation"; Michael Pollan, author of "The Omnivore's Dilemma"; and German food experts. Mexican actor Gael García Bernal rushed in fresh from the press conference for his new film "Mammoth" by Swedish director Lukas Moodysson (which screened in competition that evening) to discuss the rising prices of corn in Mexico that has led to a tortilla crisis in this part of the world.
---