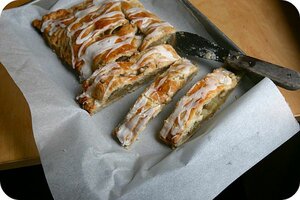 In Praise of Leftovers
My parents came down to watch the kids last weekend because Yancey and I both had to be gone overnight for work. It's pretty hard to overstate how much it means to me that they will drop what they're doing (neither of them are retired), drive down here, and save me repeatedly. The very least I can do is have something delicious they can snack on.
I hit the ball out of the park with this addictive number. A flaky rectangular crust, folded onto itself around Golden Delicious apples, drizzled with icing after it's cooled. The crust-to-fruit ratio was much more to my liking than the traditional shape, and you can eat it with your hands–i.e. if you've got your bag and flip charts in one hand, the other is being pulled by your preschooler to exclaim over her tower of blocks, you can still manage to shove this in your grateful mouth. I ate it for breakfast, of course.
The apples came from Sarah and Dan's tree – small, imperfect Golden Delicious that had an absolutely fabulous flavor. I've also made apple crisp and applesauce this week. My kids have started begging for something other than an apple for snack. Let autumn come.
Apple vanilla slab pie
Adapted from a recipe for apricot slab pie in Fine Cooking. You definitely need to refrigerate the dough for at least 2 hours before rolling it out. I found getting a rectangular shape was much less forgiving than a round one, and had to patch things up a bit. In the end, the patching didn't affect the final product at all (especially with your friend Icing to cover imperfections). And this crust recipe makes a bit more than you'll need, but that's good–to make a rectangle, you'll need to trim the edges anyway. You could definitely use Granny Smith apples here, but I really love the vanilla-like sweetness of good Golden Delicious. And that there's no cinnamon in this pie. Gives it a whole different flavor. And one more thing – the photo is only HALF of what this recipe makes – it fits just barely on a standard baking sheet.
---