Roasted golden beet salad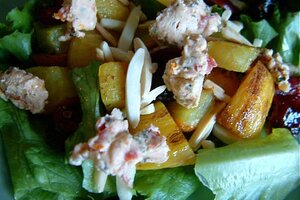 Kitchen Report
I had an epiphany at the Boston Local Food Festival on Saturday. I was standing in line at a farm stand, arms overflowing with vegetables, bright sunshine bathing rows of colorful vegetables in white light, and listening to the jangle of banjos from a Cajun band playing on a nearby stage when I realized: Why can't buying produce always feel like this?
Going to the grocery store, bracing against its uncomfortable chill, wandering aimlessly in aisle after aisle of fabulously packaged goods competing for my attention as Top 40 music wails of love gone wrong – simply fills me with dread.
Would I consider buying kale in that kind of environment? No. Would I consider it in a sunbathed pile while a smiling farmer stands nearby? YES.
Alas, it is simply not possible to have this kind of friendly sun-filled shopping experience daily, or even monthly.
So. We make do.
But back to my moment at the Local Food Festival. I was looking the farmer who grew my vegetables in the eyes ready to pay when I suddenly said, "Beets! I need beets." This surprised even me, because I don't generally seek out beets.
"Try the golden beets, they are delicious and sweeter than regular beets," she said. There was one bunch left. Mine.
"How do I cook them?" I asked.
What she said in response was so beautiful and simple, I have transcribed it below into a real recipe for you. Roasted golden beets – doesn't that just sound like pieces of warm autumn light?
Roasted golden beet salad
Serves 1
---