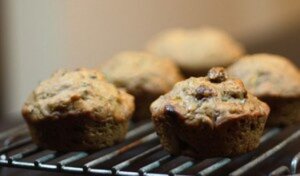 Three Many Cooks
I have never been one of those people who wanted to figure out how to make baked goods "healthier." The whole idea of replacing butter or oil with applesauce, or subbing out white flour with whole wheat, buckwheat, or rye makes me cringe. I can just imagine my beautiful, rich, tender, lighter-than-air muffins turning into dense, wet, gummy wannabes.
As for the idea of getting kids to eat vegetables in sweets (like zucchini bread), this seems like something of a Pyrrhic victory. If you succeed in getting the kid to eat zucchini, but you've had to feed her sugar, carbs, and fat to do it, what have you really gained?
And I've always thought that people who think that "healthy" baked goods taste "just as good as the real thing" are fooling themselves. I still do.
But, this weekend, we had one last BIG zucchini in the fridge and some sad little yellow squash. We had gotten so tired of eating them in soups, sauces, curries, omelets, and pasta dishes that we simply had to think of something else. So, I thought I'd give the whole "zucchini bread" thing a try.
Now Anthony, who is loathe to eat superfluous fat or sugar, loves spiced quick breads of all kinds – pumpkin, banana, carrot, sweet potato, zucchini. Since I knew he was going to eat the zucchini bread no matter what I put in it, I tried to help him out by making it something he could feel good about.
---