Thanksgiving side dish: Wild rice and fruit salad
(Read article summary)
A wild rice and fruit salad that is a little bit nutty, just like Thanksgiving.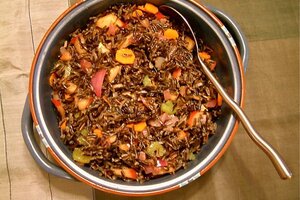 Kitchen Report
This weekend I'll be heading to a Thanksgiving "warm-up" meal, which promises to be a delicious evening full of good food and good friends before we all head out in different directions for the real holiday. There is nothing like a family of friends to be grateful with before giving thanks with the nation. A casual meal of bounty also helps to temper holiday psychosis in the kitchen (admit it, you know what I am talking about).
I'm not sure what I'll bring this year. Last year it was a wild rice and fruit salad which ended up being a total hit. One friend who decided to make it for her family a few days later reports that it has now become part of her family's cookbook of favorite recipes. I owe this culinary success story to that much-maligned domestic diva: Martha Stewart. I have a collection of "Living" magazines from 2000 (one only needs a year's worth of "Living" magazines to keep busy for a decade, trust me). This recipe for Wild Rice and Fruit Salad is from November of that year.
"On a day when warm side dishes abound, salads provide a welcome contrast," purrs the recipe introduction. "This one has many merits: the hearty, nutty flavor of wild rice, the freshness of fruit, and a tart dressing…. It can be served chilled or at room temperature and can even be dressed in advance, since the rice will stand up to a long soak without losing its pleasant chewiness."
Wild and nutty. Sounds like Thanksgiving to me. Other than having to hunt for wild rice in two different stores and then paying much, much more than I ever imagined I would for rice, it was worth it. If you can't find currants, you can substitute raisins, although currants are better because they are smaller. They plump up quite a bit as they absorb the dressing.
---