Snicker doodles and a cookie cookbook review
(Read article summary)
'Chewy Gooey Crispy Crunchy' and an edible treat like snicker doodles will make a wonderful holiday gift.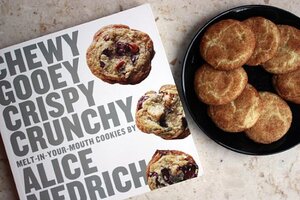 Whipped
Hear ye Hear ye, the holiday season has arrived! Sparkling lights, holiday music, travel plans and lists. Lots and lots of lists. If you are like me, you enjoy giving mouthwatering, food centric gifts. I've taken it upon myself (really tough task – ha!) to review a number of cookbooks so that I may knowledgeably suggest a few winners for holiday gifts.
When I receive a new cookbook, it sits on my nightstand for a few days as I read it usually cover to cover like a novel. By the time I reach the back, loads of paper scraps, or usually postcard sized inserts that have annoyingly dropped out of magazines are tucked in here and there marking the recipes that I most want to try. With my favorite cookbooks, I fall asleep with culinary endeavors dancing in my head.
For the beginning of my cookbook review series, I am suggesting the book you may most want to purchase for yourself. If you have cookie exchanges in your future, this one is for you! Stay tuned for a few more cookbook recommendations as well as homemade food gift ideas and my favorite mail order edibles.
Cookbook
Chewy Gooey Crispy Crunchy
Melt-in-your-mouth cookies by Alice Medrich
Overview
This book is cleverly arranged by cookie texture. Complete with baking tips and cookie secrets, this book is a cookie lovers paradise. From basic chocolate chip to meringues to biscotti to sandwich cookies there WILL be a cookie for every occasion. So far, I have found the recipes easy to follow and the results delicious. The photography is so pleasing, I just wish there was a bit more of it throughout the book.
---