Holiday recipes: Jezebel Jelly, a Retro Christmas gift
(Read article summary)
Holiday recipes, such as Jezebel Jelly, offer a chance to recapture a taste of the past. It's a quickly made tangy condiment that had a real heyday when I was a kid.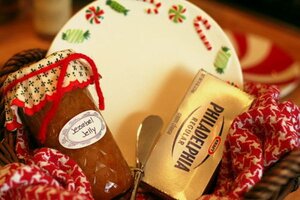 The Runaway Spoon
When I started to think about holiday recipes to share this season, I had a sudden, overwhelming memory of Jezebel Jelly. I would never have put it on my list of stand-out memories, but it popped into my mind quicker than lightening and that I could not ignore.
Jezebel Jelly is a quickly made tangy condiment that seemed to have a real heyday when I was a kid. At every Christmas function someone, who had been asked to bring an appetizer, would sail into the kitchen in her party dress and clacky high-heel shoes with her most festive Christmas plate and spreading knife, sometimes all tucked away in a basket with a colorful napkin. Talking a mile a minute undoubtedly, she'd pull out her plate, unwrap a block of cream cheese, plop it down – just the block, as is. Out came the jar of Jezebel Jelly, with its hand-written label and little fabric cap tied with a gold stretchy cord., and it was poured over the cream cheese and served with crackers (frequently Triscuits, if I remember correctly). That was that. Jezebel Jelly was the refuge of the non-cook. It was, I believe, a popular gift, easy for even the most kitchen-phobic to stir up and prettily package, with the appearance of being homemade without the work. Eventually, the Jezebel and cream cheese appetizer was replaced by the even-less-work block of cream cheese smothered in Pickapeppa sauce from the bottle. Call that a bonus recipe.
There are lots of people who seem to want to trace the origins of Jezebel Jelly, or Jezebel Sauce as some call it, and figure out why this spicy spread was named after a biblical woman of ill repute. I don't know. Frankly, it always speaks to me more of 1938 movie Jezebel, in which Bette Davis plays a fickle Southern belle whose wily ways hoist her on her own petard in the end. It is said that Bette was denied the role of Scarlett O'Hara, and this was her chance at Southern belle stardom. Personally, I think Bette's sassy, strong willed Julie is a better performance and a richer character.
---