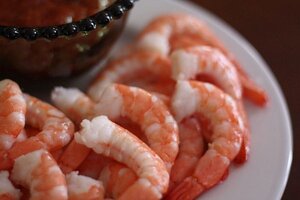 The Gourmand Mom
I've said before and I'll say it again. I love hors d'oeuvres. In my opinion, there's no better way to entertain, be it for a casual girls' night in, an elegant cocktail event, or a poker game, than with a selection of tasty hors d'oeuvres. One of my favorite events to host with an all hors d'oeuvres menu is New Year's Eve. We keep things casual around here; pajamas, champagne, and an all munchies menu. With that in mind, I thought it wise to take a look back at some previously posted hors d'oeuvres and appetizer ideas which work perfectly for a New Year's bash!
Click on the titles for links to recipes and more info on each idea:
Petite Toasts with Smoked Salmon and Crème Fraiche – Cold smoked salmon with a dollop of crème fraiche. Check near your grocery store's cheese section for crème fraiche, which is similar to sour cream, only thicker and less sour. If your store doesn't carry crème fraiche, you can substitute with a bit of sour cream or cream cheese blended with fresh dill.
Feta Cheese Mousse with Summer Fruits – Watermelon and fresh figs will be more difficult to find at this time of year. Substitute with any fresh or dried fruits. Goat cheese would also work well in this recipe and pair deliciously with fruit.
Buffalo Chicken Wing Dip – This one's a crowd pleaser! Not too pretty to look at, but super tasty. Pair with tortilla chips, fresh celery, or chunks of doughy bread. It can be made ahead, refrigerated, and baked before serving.
---