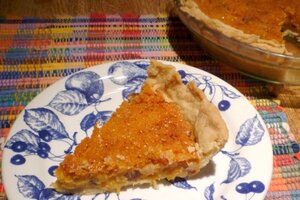 Ross Atkin
As Martin Luther King Jr. Day approached this year, the idea for making a traditional soul food dish kept coming to mind. Not that I've ever made one, but I kept thinking back to a recipe that appeared in a cookbook I once helped compile for an inner-city youth recreation center in Boston. (That, by the way, was in 1981, pre-computers, when the whole book was typewritten.)
The recipe in question was one for sweet potato pie submitted by Tom Lindsey, a wonderful African-American gentleman I came to know ever so slightly through church and work connections. Although Tom was not more than a casual acquaintance, he exuded class at every turn, including when he picked up his trumpet, which he did for occasional work parties (click on the bottom right arrow in the photo box above to see a photo of Tom on trumpet). Even an untrained ear like my own could tell he was an accomplished jazz musician.
It wasn't until Tom's passing in 2002 that I really learned about his fascinating life story in a prominently displayed obituary in the Boston Globe. It said that Tom was born in Sylacuaga, Ala., where he lived in a one-room home and attended a one-room school. His mother, who no doubt was the source of the sweet potato pie recipe, was a domestic who bought him his first trumpet. Although he dropped out of school after the eighth grade, he rode his trumpet to the musical heights, playing gigs with such jazz greats as Fats Waller, Benny Carter, and Coleman Hawkins, with whom he played on the legendary "Body and Soul" recording made in 1939.
---
Follow Stories Like This
Get the Monitor stories you care about delivered to your inbox.