Three recipes for brinner (breakfast for dinner)
(Read article summary)
Serve breakfast foods for dinner and call it brinner.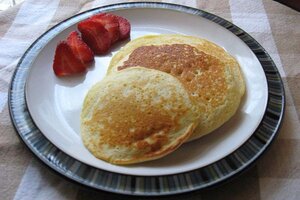 Lane Brown
It's breakfast for dinner! What was considered during my childhood a quick meal for a busy family of five has now become a regular staple in my menu planning. Whether you crave the comfort of a large pile of pancakes or need to feed yourself fast, brinner allows you to do both.
The best brinners are quick to make, inexpensive and as comfortable as your favorite sweatshirt. I stick to a few ground rules when making brinner for myself or an entire party of people. Prep time for each dish should be 10 minutes or less, ingredients should be readily accessible in the pantry or fridge (bonus if you can use leftovers!), and overall cooking-to-clean up time for each dish should be less than 15-20 minutes.
What do you think about breakfast for dinner? Join the entertaining conversation about this topic on Facebook.
Here's a menu for a brinner with sweet and savory dishes. These recipes can easily be doubled or tripled to serve multiple guests.
The Sweet
My dad made pancakes every Sunday morning when I was a kid, and they were a go-to brinner whenever mom was out of town. The following recipe was handed down through my aunt to my mom to me and these pancakes are lightweight and sweeter than what you normally get from a box of pancake mix.
Grandma Bonnie's Pancakes
Makes: 16 medium pancakes
1 cup flour (can use half white, half wheat)
1 teaspoon baking powder
1/4 cup sugar
1 cup milk* (note: whole wheat flour might call for slightly more milk to create a batter than can be poured easily on the griddle)
2 eggs, separated
Optional: fruit, nuts, vanilla (no more than 1 teaspoon), pinch of cinnamon
*The original recipe suggests that sour milk is the best kind to use. While that might be an ingredient you regularly keep in the fridge (I'm not judging), you can also use fresh milk for a slightly sweeter pancake.
Mix dry ingredients in a large bowl, add milk and whisk together into smooth batter.
Crack two eggs, put yolks in with the batter, pour whites into separate bowl.
Whip egg whites until stiff and fold into batter.
Add in optional ingredients when adding egg whites into batter.
Pour pancakes in 1/4 cup servings onto a warm, greased griddle.
---