A Nordic feast of spring in 'Noma'
(Read article summary)
Chef René Redzepi strives to revive and reinvent the distinctive tastes of Nordic cuisine through his restaurant 'Noma' and cookbook of the same name.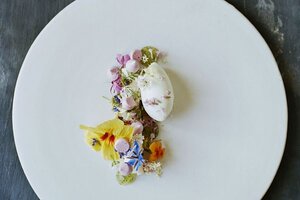 © Ditte Isager / courtesy Phaidon Press, www.phaidon.com/noma
The last of the snow from the winter is finally melting in the woods near my house, north of Boston. Spring is in the air, and when I walk my dog on a nearby country road that runs between two lakes, I can see all manner of fresh life peeking up from the ground.
If I knew what to look for, I would certainly see the tender beginnings of numerous edible species of plants. After reading "Noma" by René Redzepi I am convinced I am missing a harvest feast of fresh, local flavors at my feet.
Redzepi is a legend in the international food world, currently serving as head chef of Noma, a Copenhagen restaurant he co-founded in 2003 at the age of 25. Noma, with its austere decor and stylized dishes, strives to revive and reinvent Nordic cuisine with "a certain purity, an essential simplicity" with the region's distinctive flavors. The restaurant is so in demand that it takes reservations four months in advance only and has earned such accolades as being named one of S. Pellegrino's "The World's 50 Best Restaurants" in 2010, among others.
This time of year finds Redzepi and his kitchen staff out in the parks and woods in and around Copenhagen, foraging for wild mushrooms, berries, shoots, and other delicacies of the season. At Noma they are rendered into fantastically named dishes such as "Bouillon of Steamed Birchwood, Chanterelles and Fresh Hazelnut" or "Musk Ox, Fresh Young Garlic, Milk Skin and Carmelized Garlic."
The restaurant – and now its cookbook – has inspired something of a movement among other Nordic chefs to connect to the living heart of the region's land- and sea-scapes through an intimate attention to the seasons.
---