How to pour a proper cup of English tea
(Read article summary)
Watch the royal wedding with the satisfaction that you know how to pour your tea.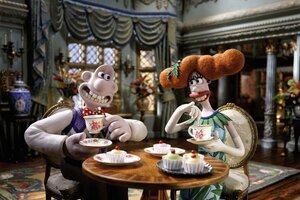 DREAMWORKS /Album/Newscom
With the modern-day luxury of TiVo, watching the royal wedding will not require getting up at the crack of dawn. So if you decide to pass on a full English breakfast and instead host an afternoon tea party to celebrate the royal nuptials, I have a few tips to ensure that the way you serve your tea will be properly English.
Notice I did not say "British." I learned how to pour my tea just west of London. And it seems that while all the good people living in the Mother Country are under one banner now, I certainly do not want to claim that I know how the Welsh or the Scots and some of the Irish serve their tea.
I have some authority on this topic because serving tea "the proper way" was beaten into me when I lived in England for a time after college. Serving English tea doesn't require wearing a fancy hat, or holding your pinky out just so. Let's lay those clichés to rest right now. But here are a few bits of insider knowledge that will make your tea serving experience royally approved.
Step One: Boil water
Most English people I have observed do not boil their tea water on the stove top in a whistling tea kettle. Instead they use electric kettles which roar to a boil in about 3 minutes. I love this, and tosses out the old kitchen wisdom of "a watched pot never boils."
---