Chinese duck pasta with mushrooms
(Read article summary)
Steaming duck legs with ginger, garlic, star anise and Chinese five-spice powder before roasting them infuses the meat with flavor and moisture for this Chinese pasta dish.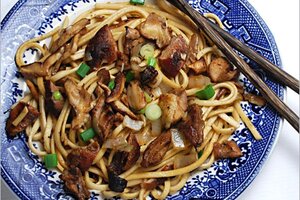 Blue Kitchen
"Marco!" "Polo!" Before becoming an annoying swimming pool pastime, Marco Polo was an Italian merchant and explorer who, as popular myth has it, brought pasta back from China in 1295. Unfortunately, pesky facts have long ago proven otherwise. But since the journey for the creation of this dish went in the opposite direction – from Italy to China – for the sake of symmetry, I'm going to pretend that Signor Polo did indeed introduce the noodle to Italy.
The journey began as many of my food adventures do, with an offhand comment. This time it was on Grub Street New York: "…chef Jonathon Sawyer (who, by the way, makes a mean duck pasta)…"
Duck pasta. Those two magical words immediately had my full attention. My first thought was linguine tossed with mushrooms, garlic and onions sautéed in duck fat and olive oil and topped with sliced duck breast and maybe a little fresh tarragon. (Wow, this still sounds good – I'll have to try it soon, I think.)
Seeking further inspiration and/or refinements to my basic idea, I was distressed to find loads of goopy, gloppy, tomato-saucy dishes (I'm sure they're all delicious, but I could just taste any distinctively ducky flavor vanishing in a sea of red). Then Marion said, "What about doing something Chinese with it?" Suddenly, my duck pasta dish took off in a whole new direction – east. Far East.
---