Perfect for picnics: chocolate swirl cake
(Read article summary)
A delicious dessert sturdy enough to hold up in any kind of weather.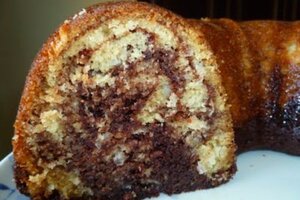 The Pastry Chef's Baking
The first day of summer and always brings to mind summer barbecues and picnics. And to my foodie brain, picnic cakes. You know, as in cakes that would be good on a picnic or road trip because they're sturdy, yummy and not too fussy or too delicate with frosting that can melt so they hold up in any weather. I think picnic cakes are on my brain partly because a lot of the baking books I have left to go through in my baking challenge are cake-type books and partly because they're just easy to make quickly, portion out and give away. I admit, I don't go to a lot of picnics. I like outdoor eating as much as the next person but I'm super finicky about food getting spoiled underneath a hot sun not to mention ants and other insects also in attendance along with the human guests.

I've had this little spiral-bound recipe book for ages. The recipes are pretty simple and they were created out of Hershey's test kitchens so it advocates using their products. This one calls for using chocolate syrup. I'm not a big chocolate syrup fan and prefer hot fudge over my ice cream. The chocolate syrup I usually bake with is Trader Joe's Midnight Moo, not Hershey's – it doesn't taste as processed (sorry, Hersheys).
---