Keep cool with icy granita
(Read article summary)
Granita is Italian flavored ice – a fancy slushy for grown-ups.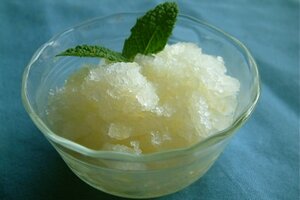 Kitchen Report
Last week we had a heat wave. Rows of 100s marched down the East Coast on the weather map. I swam outside as much as possible. And ice. I ate lots of ice.
Not ice cubes, but delicious and refreshing granita – Italian ice that you can make so easily in your own freezer. Granita is simply combining water, sugar, and fruit flavorings and then freezing it. It's like a fancy slushy for grown-ups.
I learned a couple of things in this process that might make this even easier for you.
1. You really do need to use a glass dish because you have to use a fork with some force to get the ice out of the pan and you don't want to scoop up metal into your granita. I did this.
2. Tastes vary wildly on what makes a good granita. I admit I sometimes have a hard time telling the difference between too sweet and too tart. I would never make it as a lemonade tester. None of the recipes I looked at were remotely similar. In fact, no two descriptions of granita were alike either. So to taste really counts here.
Since I still had some fresh currants left over from making currant pie, my first batch was a raspberry-currant granita that came out looking more like a sorbet. I think this had something to do with the fact that granita recipes call for stirring every hour or so, and who has time for that, really? This is when I used (and nearly ruined) a metal pan. Fail.
It was still delicious, though, tangy and tart and refreshing. I sat on my deck and watched the sun go down feeling very … cool as I ate my cool granita/sorbet. But I was determined to make a granita that had ice that sparkled like shards of glass. After swimming across Crystal Lake one evening, my friend Jenna and I paid a visit to the mall to find me a glass baking dish. (Note: Walking around while still wearing a wet swim suit in a cool mall is just as painful as it was last summer and every summer before that.)
---