Comfort food with an English accent: Lancashire Hotpot
(Read article summary)
This take on Lancashire hotpot – traditional English food at its most comforting – is made with lamb, onions and carrots topped with sliced potatoes and baked until fork tender.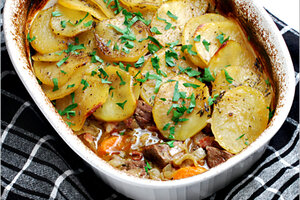 Blue Kitchen
Don't you hate it when a good myth gets debunked? Turns out one of Mark Twain's cooler quotes may never have been uttered by him. I say "may" because while no one can find it in his writings anywhere, they also can't find anyone else who said it.
The quote in question? "The coldest winter I ever spent was a summer in San Francisco." I thought of this line the other day when I came across a recipe for something called Lancashire hotpot. It's a traditional dish from England's northwest coast, lamb and onions topped with sliced potatoes and baked in the oven. The very name reminded me of one of the coldest winters I ever spent, a summer in the UK.
My brother Michael was living there at the time, and we tooled around much of England, Wales, and Scotland in a rented Mini Cooper. I not only wore all of the clothes I'd brought with me, pretty much all at the same time, but borrowed sweaters from Michael. And I still froze.
So simple, hearty comfort food like this coming from this beautiful, but chilly landscape makes sense. Calling it something as warm and promising as "hotpot" makes even more sense.
The thing about traditional dishes is that the handing down of them happens in countless kitchens. Recipes are seldom written down and almost always tweaked to family tastes, so the variations are endless. Nowhere is this more evident than with Lancashire hotpot. At its most basic, the dish is little more than lamb, onions, potatoes, stock, salt and pepper. Some versions include root vegetables – carrots, turnips, parsnips and such. Some add garlic, leeks, celery, bacon and lamb kidneys (the Brits do love kidneys, don't they?). More than one recipe also called for dozens of oysters, apparently an ingredient in the most traditional version before they became so expensive. For seasonings, thyme, bay leaf and parsley were the most common.
The lamb itself is subject to variation, too. As Edward Schneider says in The Washington Post, hotpot is often made with "bone-in slices cut from what English butchers call the neck (just north of the rib rack)." When these or other chops are used, they're often left whole, both while cooking and when served. Other recipes call for chunks of lamb shoulder or lamb stew meat. I went with stew meat – it was easy to work with and to serve. If you can't find stew meat already cut up, look for shoulder or arm chops, which are relatively inexpensive. Trim away most of the fat and cut the meat into chunks. If you're using these chops, cook the bones along with the meat and just serve around them. The bones will add lots to the flavor of the broth. Lancashire hotpot is also the perfect dish for mutton, with its slightly stronger flavor.
So here's my take on this wonderful traditional meal, hearty, flavorful and truly satisfying. Served with a salad and some crusty bread for sopping up the juices, it's perfect for a December night in Chicago – or an August night in Lancashire.
---