Breakfast in bed for Dad
(Read article summary)
Celebrate Father's Day with this easy bacon, egg, and cheese bagel casserole he is sure to love.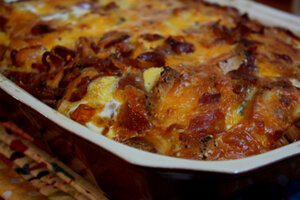 The Gourmand Mom
My poor husband. He woke up last Sunday morning thinking that it was Father's Day. He woke up thinking there would be breakfast in bed. And gifts. And probably lamb burgers for dinner. Alas, he had pegged the wrong Sunday. Not only was today not Father's Day, and not only would he not be leisurely reading the newspaper while dining on breakfast in bed, but it was my morning to sleep in, since he'd had his turn the day before. It was his turn to prepare breakfast for the three boys while I grabbed a few precious extra minutes of peaceful slumber. Sorry, hubs. This Sunday you'll get your breakfast in bed. And gifts. And maybe even lamb burgers.
Breakfast in bed on Mother's Day and Father's Day has become our annual tradition. There's just something so luxuriously relaxing about it. And since it doesn't happen often, the kids get really excited about the occasion. If the kids ever sleep past six in the morning, perhaps we'll start treating them to a special breakfast in bed on their birthdays.
Recently, I made this bacon, egg, and cheese bagel casserole. It was inspired by a bag of bagels which my parents had brought up from Long Island. They'd been left unwrapped for a few days and had gone slightly stale, but as anyone who's ever had a good Long Island or NYC bagel knows, it's a crime to let them go to waste. So, I thought I'd try throwing them into a breakfast casserole with a hefty dose of bacon, eggs, and cheese. The resulting casserole was a satisfying success; every bite with the flavor of a good Long Island/NYC bagel sandwich.
---