Potato and (yellow) cherry tomato salad
(Read article summary)
How a bumper crop of apartment garden tomatoes survived the squirrels this year.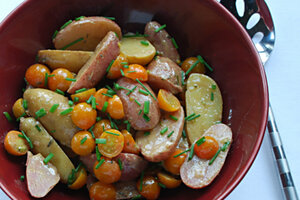 Blue Kitchen
Today's post is written by Terry Boyd's wife, Marion.
Summer is drawing to a close – we have a real blanket on the bed, we are wearing sweaters in the evening, and we are casting around for ways to use the bits and bobs that we harvest here from our apartment garden. The nation's corn crop may have suffered this year, but our tomato crop is record-breaking. Outside, we have just a tiny scrap of ground under cultivation, but it is giving us a quart of cherry tomatoes every day, on bad days – and that is to ignore the big tomatoes, which are coming in with a vengeance.
And friends, I have also figured out how to beat the local squirrels. It's been years of frustration, featuring comical shots of me, in various inappropriate garments, yelling even more inappropriate things at squirrels as they frisk up ahead with fat ripe red tomatoes in their clever jaws. But, because every year I rotate a different tomato variety into the mix, I stumbled on an answer: yellow. In our neighborhood, the squirrels do not recognize yellow tomatoes as food. Red tomatoes, yes. Peppers, berries, French fries, apples, yes. But yellow tomatoes, for no reason I understand, are safe. This year I planted only yellow varieties, and now we have a bumper crop, small and large, pear-shaped and round, all of them luscious, well-balanced explosions of acid and sweet, and not one meddling squirrel has touched them. Not. One.
Victory.
We thought of this recipe on the fly as part of a recent weekend barbecue. We've got tomatoes! We've got potatoes! We've got 30 minutes! It's one of those dishes that is so simple, it is almost not a recipe, but a description.
---