Easy homemade tortilla chips
(Read article summary)
Whether you just need a handful, or want to wow dinner guests with a big bowl of hot fresh chips, you can make your own homemade tortilla chips in minutes.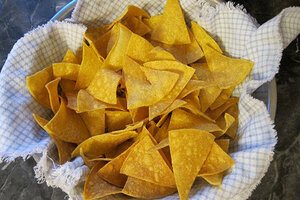 The Rowdy Chowgirl
The problem with tortilla chips is that they come in a giant bag. A giant bag of greasy, salty goodness. And I'm just one person, but I will eat the entire bag if given half a chance. I've often wished that tortilla chips came in little snack-sized bags, but if they do, I've yet to find them.
Admittedly, there are worse problems in life. But the good news is that this is a problem with a quick, cheap, and easy solution that involves oil and salt. The best kind of problem and solution, really.
I have mentioned before that I worked doing prep in a Mexican restaurant for a few years while I was in college.
I spent mornings back then at my prep table, drinking Mountain Dew while rock music rattled the stereo speakers and cool morning air wafted in the open back door. I cut up a lot of things, including corn tortillas for chips. I would take a thick stack of tortillas, cut through it quickly four times like a pizza, shove the triangular pieces off my table into a giant tub, then grab another stack and repeat this process until the tub was full. This wasn't precision work, so my mind wandered or I shouted insults back and forth with the guys at the grill while my hands hustled. Throughout the day, the fry cook took handfuls of those tortilla triangles and plunged them into the fryer, poked them around a bit with a long set of tongs, then at the perfect moment, turned them out of their basket, all hot and crispy, into another tub.
Even if you don't own a deep-fryer, this is an incredibly easy process to replicate at home. It only takes about ten minutes, and the chips are so much better than anything you can buy in a bag.
---