Humble food meets high art
(Read article summary)
'Art + Food: Beyond the Still Life' in Sydney, Australia, makes connections between consumerism, food production, and cultural identity.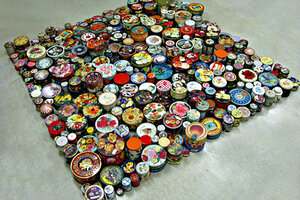 Courtesy the Artist and Brenda May Gallery, Sydney/Feasting On Art
The curated group exhibition "Art + Food: Beyond the Still Life" at Brenda May Gallery in Sydney, Australia, considers the representation of food within the visual arts and beyond the standard still life tableaux. The consumption of food is a universally shared experience, enabling people viewing the exhibition to connect with the issues surrounding consumerism, food production and cultural identity.
Some of the highlights include a large installation of biscuit tins amassed by the artist Christine Turner over a 15-year period as well as an installation by Sue Saxon and Jane Becker of hundreds of fragile eggshells on strands of lights. The show also includes a number of photographs featuring melting ice sculptures by Janet Tavener, the colourful remnants of meals by Vin Ryan and both a colourful and melting ice block by Will Nolan.
A sculpture composed of Murray River salt by Ken and Julia Yonetani will be offset by the artistic rendering of salt diffraction by Al Munro. The only traditional still life painting in the exhibition is by Michael Edwards who paints cement fruit which makes for a perfect pairing with the actual cast cement hamburgers by Will Coles.
---