Mango upside down cake
(Read article summary)
Tired of pies? Spice up your holiday dessert repertoire with this festive cake. Mango isn't just a summer flavor, when combined with cloves, ginger, and cinnamon it's warm and spicy.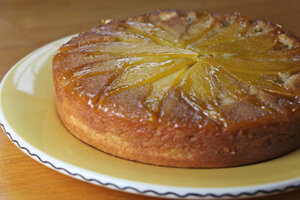 The Gourmand Mom
When I think of mangos, my first thoughts are of tropical flavors. I'm pretty sure the mango belongs somewhere in that song with the lime and the coconut. I think of seafood and summery flavors, like fish tacos and spicy mango salsa (with mango margaritas on the side). I think of mango creamsicle smoothies, chilled mango cucumber soups, or even barbecue bacon mango pizzas. It's certainly never occurred to me to combine mango with the aromatic spices of the holiday season, like cinnamon, ginger, nutmeg, or cloves.
So, when the National Mango Board offered to send me a sampling of mangos along with some ideas for pairing mangos with festive holiday flavors, my interest was piqued. I accepted their offer, eager for the opportunity to experiment with one of my favorite fruits in a novel way.
The shipment of perfectly ripe mangos arrived last week. Along with the selection of vibrant mangos, the National Mango Board provided a sampling of seasonal spices and a few recipe cards for inspiration. One of those recipe cards grabbed my attention in a way I couldn't resist: mango upside down cake.
This festive spiced mango upside down cake is a definite keeper. The cake is moist and flavorful with a satisfying texture, the result of folding beaten egg whites into the batter; an extra step worth taking. And I'm fairly certain I could be happy eating nothing but the tender mango and caramelized top of this cake for the rest of my life. Seriously, the gooey top layer of this cake is something that epic poems should be written about.
---