Lemon melting moments
(Read article summary)
Take a break from pumpkin and gingerbread, and give these buttery lemony sandwich cookies a try. They're easy enough to whip up that they just might become a staple in your holiday cookie collection.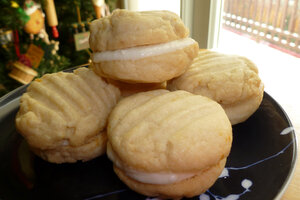 The Pastry Chef's Baking
My mom's lemon tree is literally spilling over with lots of juicy lemons so I need to ratchet up the lemon baked goods. I loved the picture of these on Pinterest, so I made these as a pre-holiday baking experiment in case I want to serve it at Thanksgiving or my dessert parties.
As always with sandwich cookies, you want to make them small since you or your guests will be eating two cookies as one. The dough was easy to make and great to work with, not too dry or sticky. I portioned into small balls, flattened each with a fork and froze them first. They don't spread when they're baked and I wanted them chubby so I didn't flatten them too thin.
I liked these cookies. They were crisp, but not hard and the crisp wasn't the snap of a shortbread or dry but just good chewing. The lemon filling complemented the butter cookie nicely but note that you may need to let it set a bit before you use it to sandwich the cookies.
The filling is more like a glaze when you first mix it but unless you want it really sweet, refrain from adding more powdered sugar until it firms up. Then it should be okay to use as filling. If you're serving a "high tea" this holiday season, these would be good to have with your tea.
Lemon melting moments
From IttyBittyKitchen.com
14 tablespoons unsalted butter, room temperature
---