Red velvet sandwich cookies
(Read article summary)
Did you know Valentine's Day is also the start of red velvet season? Make a cute and trendy dessert for your sweetheart with these sandwich cookies with heart-shaped cutouts.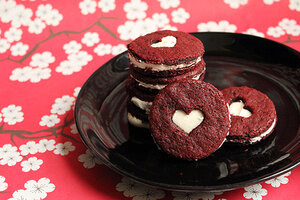 Whipped, The Blog
Red velvet is today's culinary "it" girl. There are dozens of dedicated Pinterest boards, devoted red velvet enthusiasts, and concoctions of all forms. I think red velvet, the old Southern favorite, is at top of its bell curve. If you aren't a fan, you may be rolling your eyes at every pancake recipe or cake pop. But, if you are like me, you are relishing in the light of its fame. I'm no fair-weather fan – I pledged my love years ago and I will be faithful when red velvet tips over the top of this roller coaster and lands on the "out" lists.
I used to recognize Valentine's Day as the commercial holiday it is. As a kid, I enjoyed candy hearts as much as the next sugar fiend but as I matured, I never required my love interests to make a big deal of the holiday. However, 16 years ago, I met my husband on Valentine's Day and the day took on a more real meaning.
Fourteen years later, our second daughter (lovingly known as Baby Whipped) was born on Valentine's Day. This year, as she approaches her second birthday, I've got the Valentine's fever. Hearts, candies, gifts, special dinners, sappy sentiments… BRING it on. My heart is bursting.
This year, we decided to try a new red velvet recipe. These sandwich cookies were chosen in part so I could employ my favorite Linzer cookie cutter. The method of spreading out the batter is a little fussy. But, we loved the flavor of the cookies and the consistency. For almost a week, they lived on our counter in an air tight container and stayed soft.
---