Giardiniera aioli and Cumin coriander pork chops
(Read article summary)
A cumin and coriander spice rub adds big flavor without heat to pan-seared pork chops; this lively, vinegary, fiery (or not) giardiniera aioli is great with pork, fish, chicken, or tofu.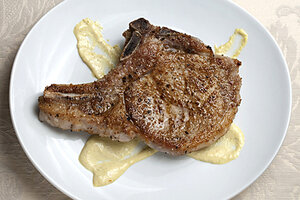 Blue Kitchen
We went to an underground dinner recently hosted by Tuesday Night Dinner. The TND crew creates pop-up dining events throughout the year, each in a different location and each with a different theme. This one was held at No Sandbox Studios, just west of Chicago's Loop, and the theme was "Off the Boat, Into the Kitchen," an interpretation of immigrant fare reimagined by the TND chefs.
The four courses were delicious and inventive, but the thing that caught my eye – or more accurately, my taste buds – was an accompaniment for one of the courses, a giardiniera aioli. Usually, aioli is a sauce made of fresh mayonnaise and garlic, but chef Jeremy Leven substituted spicy giardiniera for the garlic. The result was amazing.
Giardiniera is an Italian condiment, a mix of pickled vegetables and peppers usually packed in vinegar and oil. It can be hot or mild. Jeremy chose hot, an excellent decision. The giardiniera aioli made its first appearance at the dinner with grilled hen of the woods mushrooms. The briny, tangy, spicy sauce played beautifully with the smoky earthiness of the mushrooms. Later, it reappeared as a probably impromptu topping for Indian tacos. Again, it worked well. (To read more about this lovely dinner, check out the post on Marion's blog, 9591 Iris.)
At its most basic, aioli is made with garlic (or in this case, giardiniera), egg yolk, and oil. It is ridiculously easy to make. The most difficult (make that tedious) part is repeatedly scraping down the sides of the blender jar; it spatters spectacularly as you blend it. For me, the funnest old-school-cooking part is separating out the egg yolk. Yes, there are gadgets for doing this now, but cracking the shell in half and pouring the yolk back and forth between the halves, letting the whites separate off and fall away is wonderfully gratifying.
---