New England boiled dinner
(Read article summary)
Boiled corned beef with root vegetables is a classic New England dinner, as well as a cherished St. Patrick's Day supper.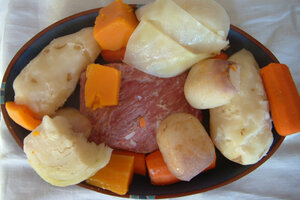 Kitchen Report
Here in Boston, boiled corned beef is especially cherished by Irish Americans on St. Patrick's Day. It's even served every Thursday evening at Doyle's Cafe, our local Irish pub in Jamaica Plain (movie stars and politicians love this place).
Say the words "boiled dinner" to most epicurians and you might be greeted with a grimaced face that seems to say, "Boiled? It sounds simply awful!"
In fact, boiled dinner is quite delicious. The corned beef is cooked until it melts in your mouth and the root vegetables are so tender they can be sliced with a spoon. It's also so easy to prepare without much watching that it could be called the original slowcooker meal.
When considering this dish as a New England classic, it's easy to see how the corned beef could have been put on to simmer early in the morning before church, and then finished up when everyone returned home for Sunday dinner.
New England boiled dinner was also a favorite dish of another famous Bostonian – Mary Baker Eddy, the founder of The Christian Science Monitor.
Her cook, Minnie Weygandt, took copious notes on what meals were served in the Eddy household to avoid repeating menus too often. But New England boiled dinner was a regular in the rotation. On April 15, 1900, she noted this dinner:
---