South African 'bunny chow'
(Read article summary)
'Bunny chow,' one of South Africa's signature dishes, is a traditional meat curry dish poured over white bread.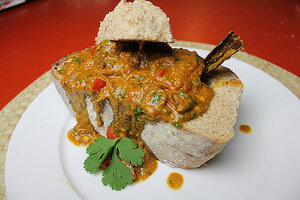 We Are Never Full
On my train journey home one night a sharply dressed man with a salt-and-pepper mustache had sat down next to me. After about 20 minutes, as we sat in the tunnel under the Hudson River, I became aware that he was craning his neck and taking great interest, as far as I could tell, in my chin. Putting my hand to my chin self-consciously I asked, "Is there something I can help you with?"
"Oh, I'm sorry," he replied calmly, "didn't mean to worry you. I was just looking at your scarf. It's a Manchester United scarf, isn't it?"
Indeed it was a Manchester United scarf, I told him, at which point a broad smile emerged from under the bushy eaves of his mustache. "I had lunch with Ron Atkinson a few times back in the 1980s, you know."
"Really?" I replied, instantly curious and detecting some sort of accent that placed him outside of the New York/New Jersey metro area. "Where?"
"In Johannesburg. I was his driver." Turning to look at him, I saw a pair of very lively brown eyes. Horn-rimmed spectacles sat comfortably amidst abundant but neatly combed salt and pepper hair giving him a slightly professorial look. Guessing his accent as South African, and he of Indian descent, I asked him what he was doing here on the New Jersey transit train to Trenton.
---