Catalogs promise a Garden of Eden
Tips for getting the most out of mail-order shopping for seeds and plants.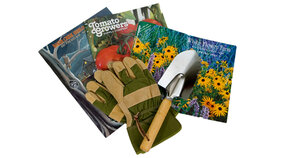 Casey Bayer
No gardening tool is as delightful – and dangerous – as a catalog. Generations of housebound gardeners have spent winter evenings staring open-mouthed at pages filled with countless temptations, from rarities of the Himalayan foothills to the newest hybrid debutantes.
The best mail-order sources offer not only guarantees but also advice on soil, watering, planting, maintenance, harvest, and storage. Some sell entire border packages complete with planting plans, sort of a floral paint-by-number kit.
It's prudent to remember that catalogs and websites are sales tools, albeit among the most beloved marketing pieces ever devised. Sensible gardeners avoid fiscal irresponsibility by tiptoeing around the prose and checking with other gardeners, local plant societies, arboretums, reference books, and websites before ordering.
They also look for clues, such as All-America Selections (AAS) or All-America Rose Selections (AARS) winners, regardless of the catalog. These independent groups use results from nationwide trials in deciding the top-performing plants.
It wasn't always so complicated.
American catalogs began as little more than plant lists printed on broadsheets in the 18th century, says Denise Adams, author of "Restoring American Gardens." By the end of the 19th century, better communications and railroads helped create a national market for nursery products. Catalogs, with color pictures and often equally colorful copy, were much as we know them today.
Yet a catalog plant, regardless of actual or exaggerated qualities, won't be a success everywhere in the United States.
What's a shopper to do?
---