Going native with plants: A new-old direction for water conservation
Different species of native plants can help communities tackle issues with too much or too little water.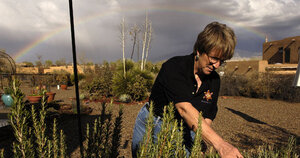 Andy Nelson – Staff
Native plants are emerging as the new heroes in a growing struggle to deal with climate change. In communities that consistently have too little water, drought-tolerant mesquite trees, buffalo grass, and colorful Texas red sage provide attractive landscaping that doesn't require watering. Native plants also come to the rescue in areas with the opposite problem – storms that dump heavy rainfall and overwhelm the infrastructure for dealing with storm water. There, plants such as marsh milkweed, cardinal flower, bloodroot, and great blue lobelia can soak up the excess before it can run off.
Native plants are trees, shrubs, and wildflowers that grow in a specific region where they have evolved over time, adapting to the prevalent environmental conditions. Because of this, they can conserve water resources more efficiently than nonnative plants, which are naturally adapted to other climates.
In Denver, where the water-conserving landscape movement known as xeriscaping was launched in 1981, one of the first efforts in the city's sustainability program saw the Mile High Youth Corps replanting large areas of lawn with flower beds of drought-tolerant native plants at Denver's City and County Building and in front of three area recreation centers.
These conservation gardens – and the many others that followed – are one part of Denver's sweeping environmental initiative called Greenprint Denver (www.greenprintdenver.org).
Before Greenprint, the city made decisions about infrastructure, purchasing, land use, transportation, and waste management based on their social and economic impacts. Now, says Beth Conover, director of Greenprint Denver, environmental effects are being considered as well. "Greenprint is an effort to make sustainability a core value and operating principle of everything we do."
---