Stashing seeds in 'Noah's fridge'
Researchers worldwide are collecting seeds from wild plants to guard against the ravages of climate change.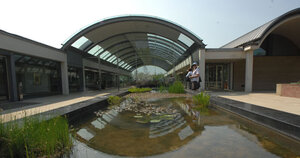 Solo/SUMA Press/ NEWSCOM
In a modest building with stuccoed walls made from bales of hay, scientists are working on an ambitious conservation project. They seek to create a "backup" of this area's – and the world's – wild plants.
Handful by sweaty handful, they collect seeds from plants in the hills around this city in southern California. Once cleaned and dried, the seeds are put into silver-colored, insulated envelopes. Half of the envelopes remain here at San Diego Zoo's Conservation and Research for Endangered Species (CRES); the other half crosses the Atlantic to the Millennium Seed Bank Project (MSBP) in Britain, the acting repository for all the world's wild plant seeds.
Unlike animals, which can theoretically move to more suitable climes, plants can only move as fast as their seeds disperse. But in today's human-dominated landscape, such obstacles as cities, agricultural fields, and highways could stop plant migration. Scientists worry that many plant species won't be able to adjust and will simply disappear. One-quarter of Earth's species, plants included, may vanish by century's end, says the latest report by the Intergovernmental Panel on Climate Change.
So as US lawmakers haggle over how to handle human carbon emissions and avoid what's widely considered a climate catastrophe in the making, seed-banking projects like the MSBP have moved ahead with a "hope for the best, prepare for the worst" approach.
---