How an Iowa man grows a 1,600-pound pumpkin
Don Young uses manure, seaweed, and a special 'compost tea' to produce a massive squash that misses the world record by 27 pounds.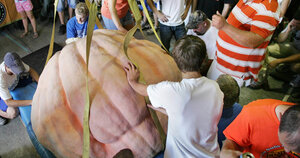 Harry Baumert/The Des Moines Register/AP
As trick-or-treaters scurry door to door tonight in this east Des Moines neighborhood, they'll find paper ghosts hanging from trees, cobwebs stretched across bushes, and flickering jack-o'-lanterns standing sentinel on front steps. Halfway down the street, they'll come to Don Young's house, which is similarly decorated for the holiday, with one exception.
Instead of a small jack-o'-lantern, Mr. Young displays the ultimate porcine pumpkin, the sumo wrestler of gourds – a 900-pound colossus that bestrides the porch like Jabba the Hutt. This monster is more than just a Halloween decoration: It's the runt of a litter of über-pumpkins that Young and his wife, Julie, grew in the backyard of their Des Moines bungalow. Young's pumpkin patch, which takes up much of his half-acre lot, is a small slice of Iowa earth dedicated to pushing nature's limits.
"It's extreme gardening," Young says, strolling through the remnants of his pumpkin plot. He stops at a smooth spot in the dirt the size of a minke whale. It's where Young grew the second-largest pumpkin the world has ever seen.
The "big guy," he calls it, weighed in at 1,662 pounds. In the last decade, big-pumpkin growing has gone from a farmer's hobby to a regulated, worldwide competition. The boom in gourds has been fueled mainly by the Internet, which makes seeds and growing advice widely available. This year, nine pumpkins outweighed last year's world record holder. Young's missed being crowned king gourd by only 27 pounds.
• • •
---