'Citizen scientists' watch for signs of climate change
People with no formal training are helping scientists track and record birds, fish, stars, and plants in their neighborhoods online.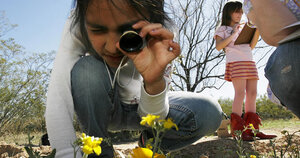 Ross D. Franklin/AP
Kite-flying Benjamin Franklin was one. So was President Thomas Jefferson, who did important work in archaeology at an Indian burial ground. British chemist Michael Faraday, who had only a grammar school education but discovered the principles of electromagnetism, is a prime example. So is Jack Horner, the world-renowned discoverer of dinosaur behavior and adviser to "Jurassic Park," who never finished college.
All of them are among amateur or "citizen" scientists who made important contributions to their fields without advanced degrees or university appointments.
Science educators today are eager to show people of all ages that they, too, can do the work of scientists. Whether it's counting birds, fish, or stars, or checking in on the lives of frogs or butterflies, ordinary Americans are joining in the excitement and rewards of scientific research.
Can people without formal training really do valuable work? "I believe they can," says Sandra Henderson, national coordinator for Project BudBurst (www.budburst.org).
This spring, Project BudBurst is inviting anyone across the United States to observe and report when trees, shrubs, flowers, or other plants growing near them bud or put out leaves.
"These observations can be very valuable to scientists," says Dr. Henderson, a scientist at the National Center for Atmospheric Research in Boulder, Colo. "[Professional] scientists can't be everywhere, and we're asking volunteers to be these extra eyes on the landscape."
---