Our garden gets a rest
When you're used to growing vegetables, it's tough to give it up for a year.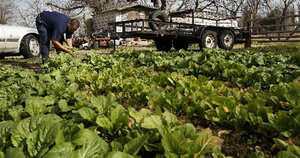 Kahampha Bouaphanh/Fort Worth Star-Telegram/MCT/Newscom
This is the year that I am planning not to garden. It will be the first time in many years with no dirt plot in our yard.
When we moved to Texas, one consolation for being so far from my side of the family was the two gardening seasons, one from February till June and the other from September till the one or two really cold days of December.
My green beans attached themselves to the pampas grass. A banana tree shoot sneaked under the neighbor's fence and launched itself in our yard. Red calla lilies crept under the opposite fence and formed a vibrant row.
The day we sold the house, the garden plot, made originally from a wading pool that had fallen apart, had tomatoes, lettuce, and beans. I gave the blooming aloe vera plants to friends, and we headed north.
In Connecticut, we arrived on the day of our new parish's Russian Festival, a celebration with food, flowers, and vendors.
The parishioners gave us all the leftover plants we wanted, and I started a container garden at the house we were renting until we bought a home of our own. The furniture and walls were different, but the cucumbers and peppers were familiar and all our own.
When we finally were in a permanent home, it was already October. It was too late to see what was planted there already and also too late to start a garden in earnest. But what I could do was prepare.
The one sunny spot of the yard held what used to be the stump of a cedar tree. It had started to rot, and I decided to dig it out. None of the children wanted to help, so I contented myself with doing the work alone, like the little red hen, until I overturned one section and gasped in horror, "Look at all those horrible, slimy bugs!"
---