Your coleus questions answered
The most important quality of a good coleus, says expert Ray Rogers, is that you can plant it and enjoy it without needing to make a constant fuss over it.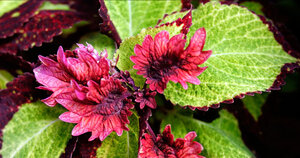 NEWSCOM
WHAT IS A "SUN COLEUS"?
The so-called "sun coleus" are varieties that tolerate a great deal of sun or even require it to show off their best coloration. Coleus are no longer plants strictly for shady sites – hybridizers and coleus enthusiasts continue to offer spectacular selections that will provide as much color as (or more than) many other sun-loving plants, including other annuals and many perennials.
Generally, grow the light-colored ones (those with white or pale pink or yellow in their leaves) in spots that receive only the first hour or two of morning sun. Most others do well with lots of morning sun (before it gets strong and hot), and some, including the sun coleus, luxuriate in all the sun you can throw at them. Experiment with your favorites to see what they can handle.
WHY SHOULD I REMOVE THE FLOWERS?
Flowering directs a plant's energies toward seed production. Since we grow coleus for their colorful foliage, it makes sense to pinch out the flower buds as you notice them. Don't wait until the flower clusters are big and unsightly.
Pinching will encourage the plants to send out more shoots and leaves, resulting in a denser, more colorful plant. Some coleus produce beautiful blue flowers, though, so you might want to stop pinching about six weeks before your expected first frost to enjoy them at the end of the season.
HOW DO I KEEP THEM OVER WINTER?
If you want to keep your favorites over winter for the next growing season, the easiest thing to do is to root some cuttings in water a month or two before your expected first frost.
Make the cuttings about four to six inches long, take off the lower leaves and flower buds, and place them in a glass of water. Roots will quickly form, and then it will be time to plant the cuttings in a pot containing well-drained potting mix.
---