Tomatoes with a history
These plants have a past.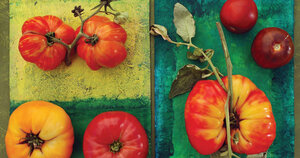 Family Features
In a world that worships the new, sometimes older is better. For me, that's true with tomatoes. While modern hybrid tomatoes look great and are very productive, the old heirloom varieties have the taste and look of "real" tomatoes.
What's an heirloom?
Heirloom tomatoes are those varieties grown prior to World War II. They often are regional varieties from around the world that have been passed down within families.
Heirloom tomatoes differ from the modern hybrids on a number of counts. Heirlooms tend to have a wider variety of fruit colors and shapes. The fruits are softer so they are more difficult to ship long distances. That's why they aren't as available commercially as modern hybrids.
The fruits have a good blend of sweetness and tomato flavor. On the downside, some heirlooms have more disease problems and are so regionally adapted they may not grow well in all parts of the country.
Five Favorite Heirloom Tomatoes
All of the varieties listed are indeterminate (they keep growing and producing fruit all summer until frost). The days to maturity are calculated from transplanting to first harvest.
Big Rainbow (90 days) - This attractive, bicolored, beefsteak-type features 2-pound golden orange fruits with light yellow shoulders and red streaks throughout the flesh.
Black Cherry (65 days) - This large, round cherry tomato features chocolate-black fruits. The fruits are produced in abundance and have a rich, earthy, complex flavor.
Brandywine (85 days) - Originally from the Brandywine Valley of Pennsylvania, this is probably the most widely known heirloom variety. One-pound fruits are pink, red, or yellow, depending on the strain, and have a perfect blend of sugars and acids. The plants feature unusual potato-shaped leaves.
---