New botanical gardens give the flavor of Maine
One of the newest botanical gardens in the US has a rare waterfront location.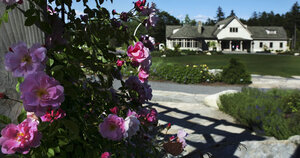 Pat Wallenbach/AP
BOOTHBAY, Maine (AP) — The coast of Maine is probably better known for lobsters and windjammers than rose gardens and flowering dogwood trees.
But at one of America's newest gardens, the Coastal Maine Botanical Gardens, you'll find nearly 1,300 varieties of plants, world-class sculptures and a restaurant that uses herbs grown on the grounds.
The garden also has trails that offer classic Maine scenery, from evergreen trees to lobster boats.
The Coastal Maine Botanical Gardens, in their second year of operation, are located on a peaceful 248-acre plot on the edge of the Back River, a tidal waterway that flows into the Sheepscot River and the Atlantic Ocean.
Visitors have 10 ornamental gardens to choose from, along with over two miles of trails through forests of towering spruce, pine and fir trees.
A shoreland trail meanders along half a mile of the river, giving a view of islands, lobster buoys and a fishing cooperative on the opposite shore where lobstermen sell their catches.
Here you'll get a full flavor of Maine, from the coastal scenery to granite ledges and outcroppings on the garden grounds that were formed by glaciers thousands of years ago.
---