Historic trees to the rescue
Her grandfather's arboretum saved her biology project and seeded a timeless gift.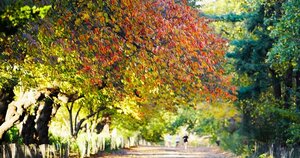 NEWSCOM
Back in my high school days more than 30 years ago, I had a long-term biology project to collect and identify leaves from a fairly extensive list of trees. This task was to be shared by me and my lab partner.
Later in the quarter, when I asked my partner how her half of the leaf collection was coming along, she gave me a glassy-eyed "What leaf collection?" look. She had blown off the assignment, and it didn't seem to bother her that our grade was in big trouble.
Not many people have a tree expert to call upon in such a crisis. But I did. My maternal grandfather, Theodore Klein, was a native Kentuckian who loved plants and trees.
Papa, as his grandchildren called him, was a gifted nurseryman by trade and an artist at heart. His grandfather had immigrated to America from Germany to cultivate grapes in the Ohio River Valley and his green thumb passed on to Papa.
Right up until he died in 1998 at the age of 93, my grandfather was an active man with a mission: to grow or create something interesting and beautiful (www.yewdellgardens.org/about_us).
So on a weekend in October 1975 (before all the leaves fell off the trees), my mother and I drove from Cincinnati to my grandparents' Kentucky farm. With Papa's help, I searched throughout his vast arboretum and found all the remaining leaf species that I needed – and then some.
---