Community gardens sprout in Mexico City
Residents plant vegetables to lower their food costs.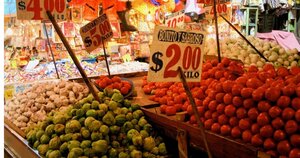 NEWSCOM/file
MEXICO CITY (Reuters) - Under the rule of the ancient Aztecs, Mexico City was a maze of canals and floating gardens that grew corn and beans to feed the masses.
Hundreds of years later, the government of this concrete metropolis of 20 million people is promoting urban vegetable gardens as a way to ease the burden of soaring food prices faced by poor families.
Mayor Marcelo Ebrard – who is behind a string of crowd-pleasers like cycle lanes, artificial beaches, and an outdoor ice rink – has sent groups of gardening experts out to build community gardens.
Over 20 urban vegetable patches have been planted since last year, some in areas formerly used to dump trash, and the city government wants to build at least 20 more.
"We see this as a pilot project that could explode across the city," said program director Pedro Ponce, an agronomist.
A surge in world food prices, as fuel and fertilizer costs soar and demand balloons for staple grains from fast-growing developing nations, has pushed up vegetable prices in Mexico by 17 percent over the past year, central bank data shows.
In some street markets, where lower-income families shop, stall prices are even higher.
Under the urban gardens program, neighborhoods find suitable spaces and the city government provides seeds, tools and technical assistance from agronomists who teach them how to nurture the plants and make organic fertilizer.
---