Stinkweed now a valuable plant?
Biofuel researchers look for the good in a pesky plant.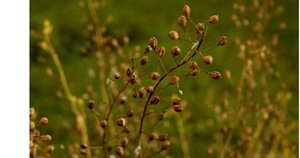 Photos by Kevin Rivoli/AP
The request caught dairy farmer Brian Ziehm off guard: Would he devote an acre of his fields near the Vermont line this fall to grow stinkweed?
"It was like, 'What the heck? I've been trying to get rid of these things for 30 years. Now you want me to plant them?" '
But Mr. Ziehm happily agreed to grow the hardy weed called field pennycress — a.k.a. stinkweed — to help test a potential new source of fuel for the booming biodiesel market. A handful of fields around upstate New York will be planted with pennycress later this month under the pilot program launched by an Albany-based biodiesel company, Innovation Fuels Inc.
Past promises of cheap fuel grown on American soil have sometimes become, umm, stuck in the weeds as prices for commodities like corn and soybean oil rose. But a number of researchers now believe that this winter weed with oily little seeds has an advantage in that it is not a food crop.
"Our intention is to create a crop that has a niche and does not displace anything else that is already growing," said Steve Vaughn, a plant physiologist with the National Center for Agricultural Utilization Research in Peoria, Ill.
---