A garden tended with love
This garden shines because of its volunteers.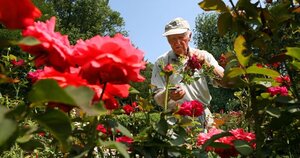 Photos by Melanie Stetson Freeman/Staff
Almost every day during the growing season, Horace Ashenfelter of Glen Ridge, N.J., leaves his house early in the morning and walks up the street to unlock the gates to Freeman Gardens, a tiny public space filled with plants, songbirds, and local history.
Several times a week, he brings along a pair of sturdy clippers and spends an hour or two tending the garden's extensive rose beds.
Freeman Gardens has been around for more than 70 years. Mr. Ashenfelter has been around for a few more. Fifty-six years ago, he broke a world steeplechase record as a member of the US Olympic team. Now, at a more leisurely pace, he is part of a small but devoted corps of volunteers who maintain the singular vest-pocket garden.
Freeman Gardens, which is about the size of two residential lots, came into being in 1935, at the end of the heyday of American estate gardening. Its designer, Ethelbert Furlong, worked mainly in the Northeast, creating many English-inspired formal gardens in the years between the two world wars.
Furlong's client, Clayton Freeman, was a wealthy local businessman and philanthropist who wanted a garden to complement his graceful suburban house. The landscape architect responded with a design that featured a rectangular, formal rose garden.
The rose beds have been expanded over the years, but the brick path that forms the main east-west axis still draws the visitor's eye back to a brick wall situated on an elevated terrace.
---