Chrysanthemum displays - not just for the front yard
Fall chrysanthemum shows around the US.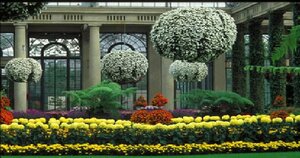 Photos courtesy of Longwood Gardens/file
This time of year, many homeowners brighten up their front steps with pots of brick-red or yellow chrysanthemums. But true fans of the flower may also want to check out one of several chrysanthemum shows taking place around the country this fall.
At the New York Botanical Garden in the Bronx, N.Y., "Kiku: The Art of the Japanese Chrysanthemum" runs Oct. 18-Nov. 16, billed as a "cultural exhibition and flower show." "Kiku" is the Japanese term for meticulously cultivated chrysanthemums, which are pinched, staked and tied to grow into specialized shapes.
Varieties include ozukuri, with hundreds of blossoms in dome-shaped arrays, all from a single plant; ogiku, a single-stemmed plant up to six feet tall with one perfect flower; kengai, a cascading frame covered by small-flowered mums; and shino-tsukuri, mums that open wide with different shaped petals that change as they age.
Oregon's Portland Japanese Garden also hosts a "Kiku Matsuri," or chrysanthemum festival, Oct. 18-Nov. 2. The event includes a two-day Ikebana International Chrysanthemum Exhibition and a special display of potted mums as well as cascades of flowers grown from a single root, pom-poms and spider mums.
---