South Africa's garden route
Beautiful scenery and charming gardens.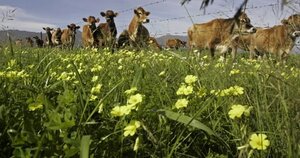 Schalk Van Zuydam/AP/file
(AP) — Far from the crowds and traffic snarl-ups on South Africa's much-vaunted coastal Garden Route is a stunning inland alternative that showcases some of the country's most fabulous scenery but passes unnoticed by most visitors.
Route 62 — which evokes comparisons with the legendary Route 66 between Chicago and Los Angeles — starts from just outside Cape Town and runs to the city of Port Elizabeth.
It winds through scenic spa towns, vineyards, and fruit farms, breathtaking mountains and floral feasts — not to mention the self-proclaimed Ostrich Capital of the World.
The best news for tourists is that it is possible to combine Route 62 and the Garden Route, named after its dense and lush vegetation, for a truly unforgettable journey.
Instead of taking the N2 highway from Cape Town to George (a journey of about five hours, and that's without road work) as most tourists do — go on the N1 highway to Worcester and then follow the inland route to George.
It's shorter and infinitely more beautiful, and you miss only a small part of the Garden Route. The road is empty and fast and can be covered in a few hours. But it's worth lingering for at least a couple of days.
---